Official Members
RECONNAISSANCE SCOUT

CHIEF WARRANT OFFICER SEAMUS

CODENAME: KIOWA

Kiowa (officially inducted August 19, 2013) has shown loyalty to SFF, and has also displayed a high level of skill in provision-scouting and food-pleading through cute facial manipulation, recognized by The Lanther himself. The Chief continues to be a strong advocate of SFF missions, always on the lookout for food vulnerability scenarios for himself, the team and fellow canine comrades. Our warrant was willing to put his paws on the line for SFF induction, as shown in his induction task PHOTO.

FORWARD ASSAULT PLATOON LEADER

1ST LIEUTENANT RILEY

CODENAME: DEVIL GIRL

Riley "Devil Girl" (officially inducted August 19, 2013) was scouted by SFF due to her express skills in "Floor-Drop Assaults." She displays an unrivaled ability to gulp down paratrooping food, such as huge chunks of chicken, before Humans can say, "No!" She joins SFF possessing 12 years of Stealth Food Heist experience. The LT is not afraid to get her paws chilly and in trouble, as proven by her induction task PHOTO.
—————————————————————————————————————————————————————-
TABLE OBSERVER

STAFF SERGEANT BECKETT BRADOR

CODENAME: STARBARKS

Beckett (officially inducted August 21, 2013) says about himself, "I am an exuberant yellow lab!" SFF agrees! His enthusiasm caused him to swear allegiance to the SFF CREED even before he made it known he was interested in joining! We are glad to have such an eager member on board! Some notable food heist actions on Beckett's resume include stealing a latte (no wonder he is "exuberant!") and a piece of lunch bagel. We decided to codename him Starbarks due to that little cafe heist and his general excitement energy! PHOTO.

DIGIT MEDIC

STAFF SERGEANT WYATT BURP

CODENAME: SEVERUS

Wyatt (officially inducted August 21, 2013) has grabbed things from pita to eggs to tissues… and stated, "Just so you know, if mom had passed me a piece of egg, I would have taken her finger off too." (Hence the codename: Severus)… At least he's the medic and he'll know how to reattach the finger… or at least provide first aid. PHOTO.
—————————————————————————————————————————————————————-
DEMOLITION
TEAM: THE LABSMITHS
CODENAMES: EOD & DEMOLICIOUS
This set of Labs forms the team "LabSmiths." Together they are a force of nature. They earn their team name from being able to conquer even the most "locked" up items.They are able to open and shred just about anything they set their minds and mouths upon. Both are highly skilled at acquiring food from closed cabinets and from atop counter thought to be "out of reach." They even apply their skills to non-food items, exercising their battle drills and remaining sharp.
STAFF SERGEANT MOOSELBY WAGGERSTEIN

CODENAME: EOD (Eat On Detection)

Mooselby (officially inducted August 21, 2013) earned his codename, "EOD" due to his enthusiasm to "demolish food on the spot." He is quoted as saying, "Is the 'chew' part mandatory or is it ok to skip to swallerin?" and "I'm old, I don't got time for chewin'. My motto: Eat first, ask questions later, or: manducare primo, post requires." PHOTO.

S

T

A

FF SERGEANT PIXIE MCNIBBLES

CODENAME: Demolicious

Pixie (officially inducted August 31, 2013) earned her codename, "Demolicious" due to her enthusiasm to "demolish virtually anything." She executed her first SFF mission prior to even being tasked! "I got pasta from the pantry. There was collateral damage," she exclaimed. Pixie's brother Mooselby joined SFF first, and then was nominated following by Beckett aka "Starbucks." Pixie was so excited to join that she submitted this video footage of her previous work: http://t.co/B5OI5jImYO. See her Induction Task PHOTOs.
—————————————————————————————————————————————————————-
FOOD EXTRACTION SPECIALIST

STAFF SERGEANT ROOFUS T. POTUS

CODENAME: SUPER-ROO

Roofus (officially inducted August 31, 2013) has "snatched food out of people's mouths before!" He told us while laughing, "They may hover, but I am FAST!" This is why he excels in his specialty as a Food Extraction Specialist. He motors in and out of the target area with precision and speed, like a motorized canine… or Super-Roo (like Subaru, get it?)!!! Roofus appears to be an indiscriminate in his food acquisition, targeting some less desirable non-food items that his Human… whom he refers to as "Ma Ape" snarks about.

FOOD HOSTAGE NEGOTIATOR

STAFF SERGEANT GARTH RILEY

CODENAME: FALCOR

Garth (officially inducted August 31, 2013) appears to have a keen ability to persuade Humans to let him HAVE THINGS. He reached out to SFF requesting to join after the last class was inducted. His eagerness to join gained positive attention from Elite Command. His codename comes from his close resemblance to the Luck Dragon who stars in the Human film, "The Neverending Story." And like Falcor, Garth uses his charm and agility to swoop in and Food Heist when he sees fit!  

—————————————————————————————————————————————————————-
TARGET CONTAINMENT SPECIALISTS

TEAM: BRAVO TEAM

CODENAMES: TRUMP & THE APPRENTICE

This big sister and little sister Boxer team is known as "Bravo Team" (That's a phonetic "B" for Boxer). Sammy is the tan big sister who has been Food Heisting for years, and has become a tycoon in her industry. Penny is the darker lil' sister, who at just 10 months old has learned a plethora of snatching and grabbing unguarded Human food from her big sis.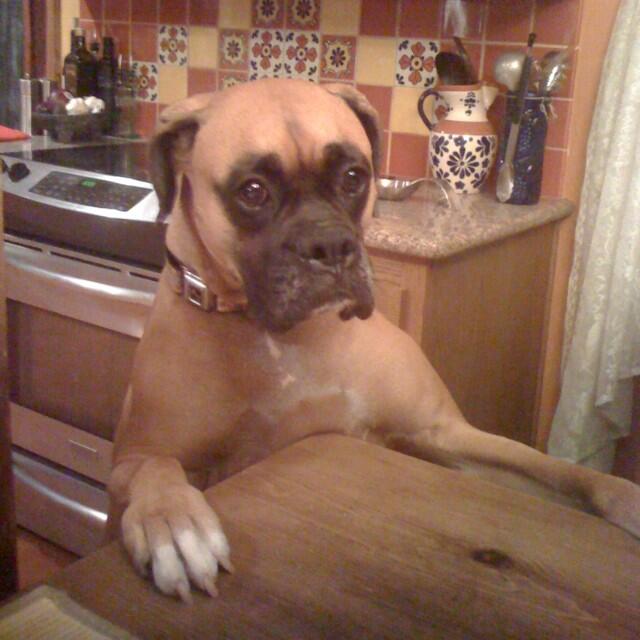 STAFF SERGEANT SAMMY BOXER
CODENAME: TRUMP
Sammy (officially inducted August 31, 2013) earned her codename, "Trump" by referring to her younger sister as "her apprentice." Sammy was ecstatic to be given the opportunity to become an SFF member. She exclaimed, "We're (She and Penny) so proud to be considered for SFF!" Sammy comes to SFF with a lot of experience and skills. We know Sammy will be a fine asset to SFF! PHOTO.

S
T
A
FF SERGEANT PENNY BOXER
CODENAME: THE APPRENTICE
Penny (officially inducted August 31, 2013) is of course Sammy's young apprentice. Sammy proudly proclaimed to another recruit about Penny, "Yeah, she's my apprentice! Not bad for a 10 month old!" She also shared one of Penny's recent Food Heist exploits, reporting directly to SFF: "Sir! Penny grabbed hot dog buns from the counter, ripped it & ate some! https://t.co/dSmMRbLGXr" Both Sammy and SFF have high hopes for this young lass!  PHOTOs.
—————————————————————————————————————————————————————-
NORTHERN FOOD-FARE EXPERT

STAFF SERGEANT REIMER

CODENAME: VERMONTER

Reimer (officially inducted August 31, 2013) is a resident of the Green Mountain State and a Maple Leafs fan when not Food Heisting. He was, oddly enough, referred to SFF by (whispers) HIS HUMAN!!! LOL! We have a Human defector! His Human wrote to us, "How 'bout Reimer. Can he enlist? He is truly a stealth pilferer of yummies!" YES! And he is all that he was proclaimed to be! Like most Labs, Reimer is food-motivated and food-dedicated. At  the end of his induction mission, Reimer commented, "The ribs Burp!!! Were good!" Nice touch, Reimer!!! PHOTO.

MIND OPERATIVE

STAFF SERGEANT MERLYN

CODENAME: MATRIX

Merlyn (officially inducted February 28, 2014) is a young collie who seems very fond of his doggy pal, Uncle Charlie. Merlyn likes to work his "magic" on humans, to convince them to hand over their food. Maybe Merlyn will use his awesome powers of persuasion to score some food to share with Uncle Charlie! And as for counter surfing, Merlyn really goes above and beyond with not one… not two… but ALL FOUR PAWS on the counter! WOOFRAH!  PHOTO.
—————————————————————————————————————————————————————-
HEAVY FOODTILLERY

TEAM: THE LEON KINGS

CODENAMES: AMA & RAMS

This set of Leonbergers, gentle giants, come together to form the team, "The Leon Kings." They are brothers and partners in food acquisition! They are magnificent in their presence, and magnificent in their Food-Heist capabilities. Humans whom they choose to surround can do little to avoid their powers of persuasion. Amma is also the namesake and head of Ammy's Delight Homemade Dog Biscuits. 

STAFF SERGEANT AMADEUS IVAN
CODENAME: AMA
Amadeus (officially inducted August 31, 2013) was so eager to take on his mission tasks to join SFF, that he decided to try to do all 3 tasks, when he was only required to do 1 of 3!!! Go Ama! Aside from his obvious enthusiasm to join, he is also highly food-motivated. With his size and stature, all he need do to pirate unattended food, is walk right up to a counter or table and open his mouth. LOL! He is quite Dude! PHOTO.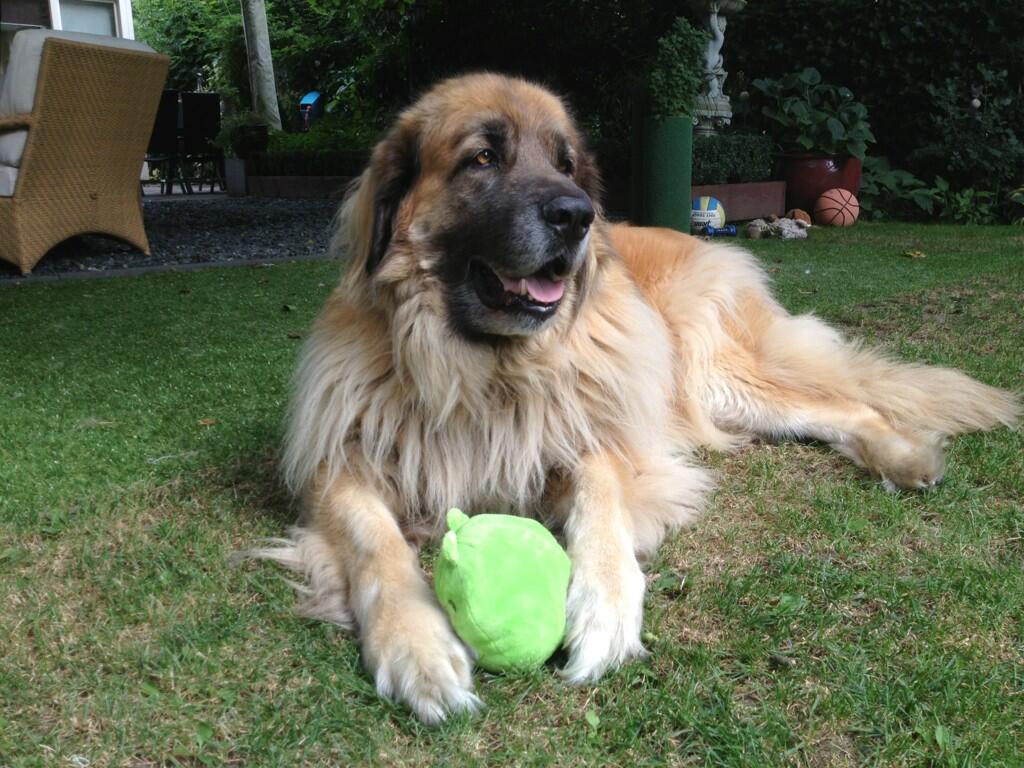 S
T
A
FF SERGEANT RAMSES
CODENAME: RAMS
Ramses is the older brother to Ama. When his younger brother decided to join SFF, and was undergoing his induction tasks, Ramses joined in. Although Ramses wasn't an official class member, SFF saw his potential and that he had conducted the tasks along with Ama. Therefore, SFF decided to do a direct induction of Ramses, inducting he and his brother as a team. PHOTOs.
—————————————————————————————————————————————————————-
FOOD ACCESS ENGINEER

STAFF SERGEANT LUCKY

CODENAME: THE STRATEGIST

Lucky (officially inducted February 28, 2014) is the namesake and canine supervisor of his own doggy daycare and boarding boutique, "Lucky's Bed and Biscuit." When he isn't a business dog, Lucky is engineering unique strategies to pilfer food from his Human family… including the young children of the household. One of Lucky's exploits that got him noticed by the SFF was a couch to baby chair food heist. According to witnesses, "He pushes the high chair to the back of the couch, then gets a perfect seat from the top to clean it up, if someone walks up he instantly sits down as claims no part of the clean up efforts!" Go lucky! PHOTO.

FOOD EXTRACTION SPECIALIST

STAFF SERGEANT CHICO

CODENAME: BROWNBEARD (THE PIRATE)


Chico (officially inducted February 28, 2014) was first scouted when he posted this: "Stole a big raw steak out of the pan. Yummmy! Half a second and it was gone. Just in case my human would like to have it back ;-)" After sharing this information with the other SFF members, he was promptly invited to join, and he accepted! He is extremely food motivated and exhibits a true "hunger" to complete food heist missions! Constantly! He's an assertive "anything goes" type of dog! We've been waiting for his skills to add another Food Extraction Specialist.  PHOTO.
—————————————————————————————————————————————————————-
DIVERSION EXPERT

STAFF SERGEANT CALYPSO

CODENAME: WINK

Calypso (officially inducted February 28, 2014) has been keen on joining SFF and excitedly awaiting the start of her class. She put herself "in training" as soon as she was informed that she was a new recruit! That's dedication for you! Calypso refers to herself as "Wonder Mutt," and has shown that she is extremely responsive to food, and clearly able to win over humans who have food in their hands… or mouths… with simply a bat of her cute little eyelashes. PHOTO.

COUNTER-INTELLIGENCE

STAFF SERGEANT PENNY

CODENAME: CHIPS

Penny (officially inducted February 28, 2014) is also known to her Human as "Muppet." When she saw mention of SFF, she raised her paw excitedly to join! She is a chip heist expert, counter surfing whenever chips are present. Penny is always finding ways to make her humans smile (part of the food heist ploy). She also loves to run like the wind with sticks in tow (food heist escape training). It may be counted on that she will build upon her SFF Food Heist capabilities and further the SFF cause. PHOTO.
—————————————————————————————————————————————————————-
‎